The Problem
Our challenge was to integrate the DirectorInsight web application functionality into the Diligent Boards iOS product. In this case, I've focused specifically on Director Network Search. DirectorInsight's search functionality was originally presented as a 3 part feature that focused on individual director networks, the people that they were connected to and a customized watchlist for future reference.
Problem Statement
We have observed an opportunity for Diligent iOS Boards to further enhance our Director's experience by implementing a set of DirectorInsight functionality that focuses on the Director Network, People & Watchlist.
How might we provide a white label Boards iOS Director Search experience that will be useful for our Directors and provide Diligent with additional product subscription opportunities?
My role and team:
Senior Product Designer - My role was to clearly define the existing functionality, identify pain points; then provide recommendations and product design solutions that would introduce director networking as an enhancement to Diligent's suite of tools.
My team - Product Owner, Product Manager, Content Strategy and Development
Design Process
Empathize - Listening to users to help better understand their needs. Identify their goals, workflows, problems and pain points.

Define - Problem statement with a success criteria based on product direction or user-research driven data and vetted by the product team to ensure it's a real need.

Ideate - Leverage on existing solutions and retain consistency implement a solution fit for your product and users.

Prototype - Showcase solution to Designers, PMs, Devs and other team members (and Clients if possible) to validate design decisions

Handoff - Provide Devs with final specs to help them implement UX/UI changes. See Dev changes before it's signed off to ensure accurate implementation

Test - Gather data from wider user audience via a Beta/ feedback mechanism to track the success of the solution
Design Principles
Streamlined simplicity - The challenge of integrating a fully functional standalone web based product into an existing iOS iPad product meant looking for opportunities to refine, simplify and integrate.

Seamless Integration - Solving for how and when users would interact with the new search and networking options with the context of Diligent's product suite.
Ideation & Validation
After taking inventory of the current, standalone networking product; I was able to start to visualize ways that this functionality could live within the current Diligent product suite. Early iterations kept the searches separate, like they were on the original site. After getting feedback from internal stakeholders, we realized this powerful search may best be displayed together.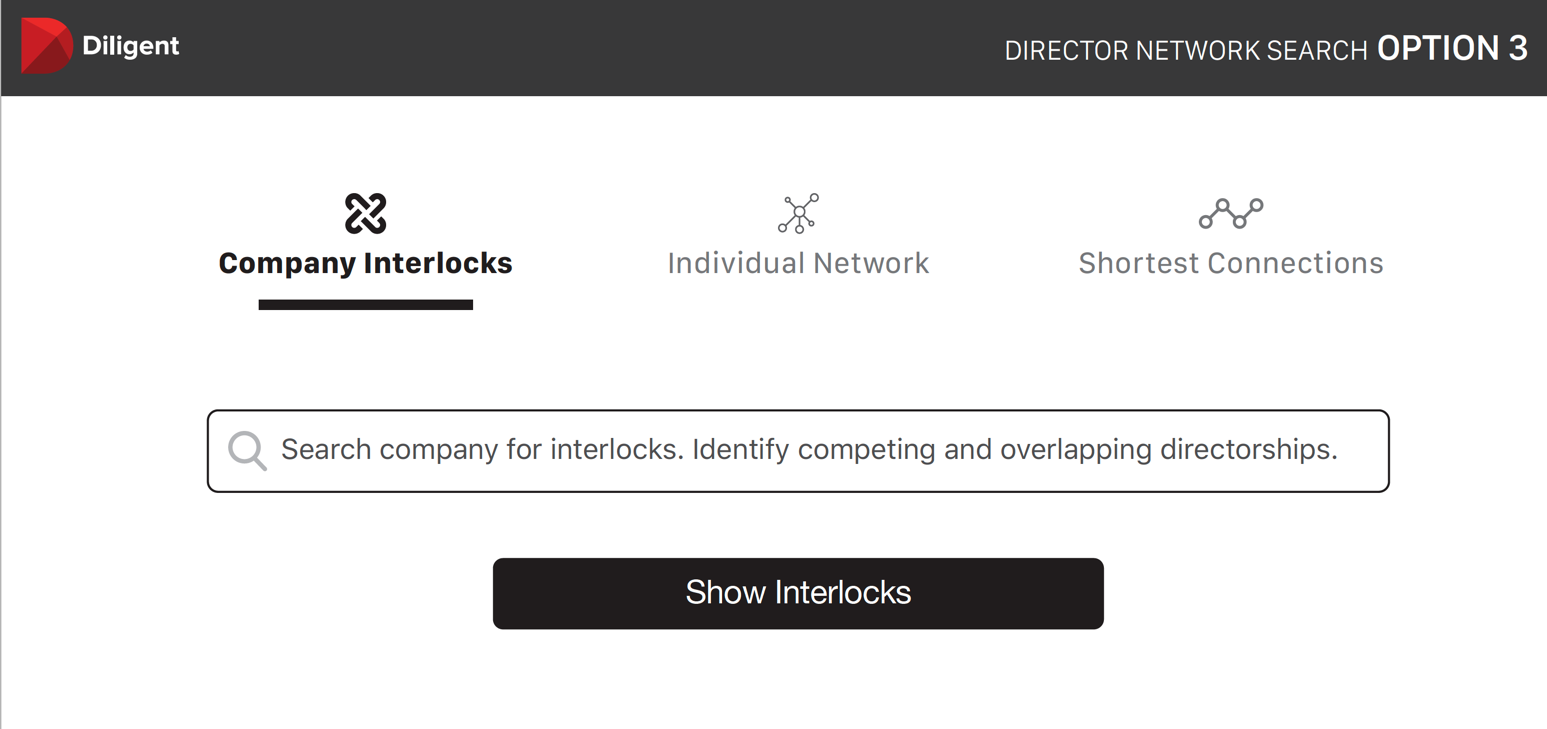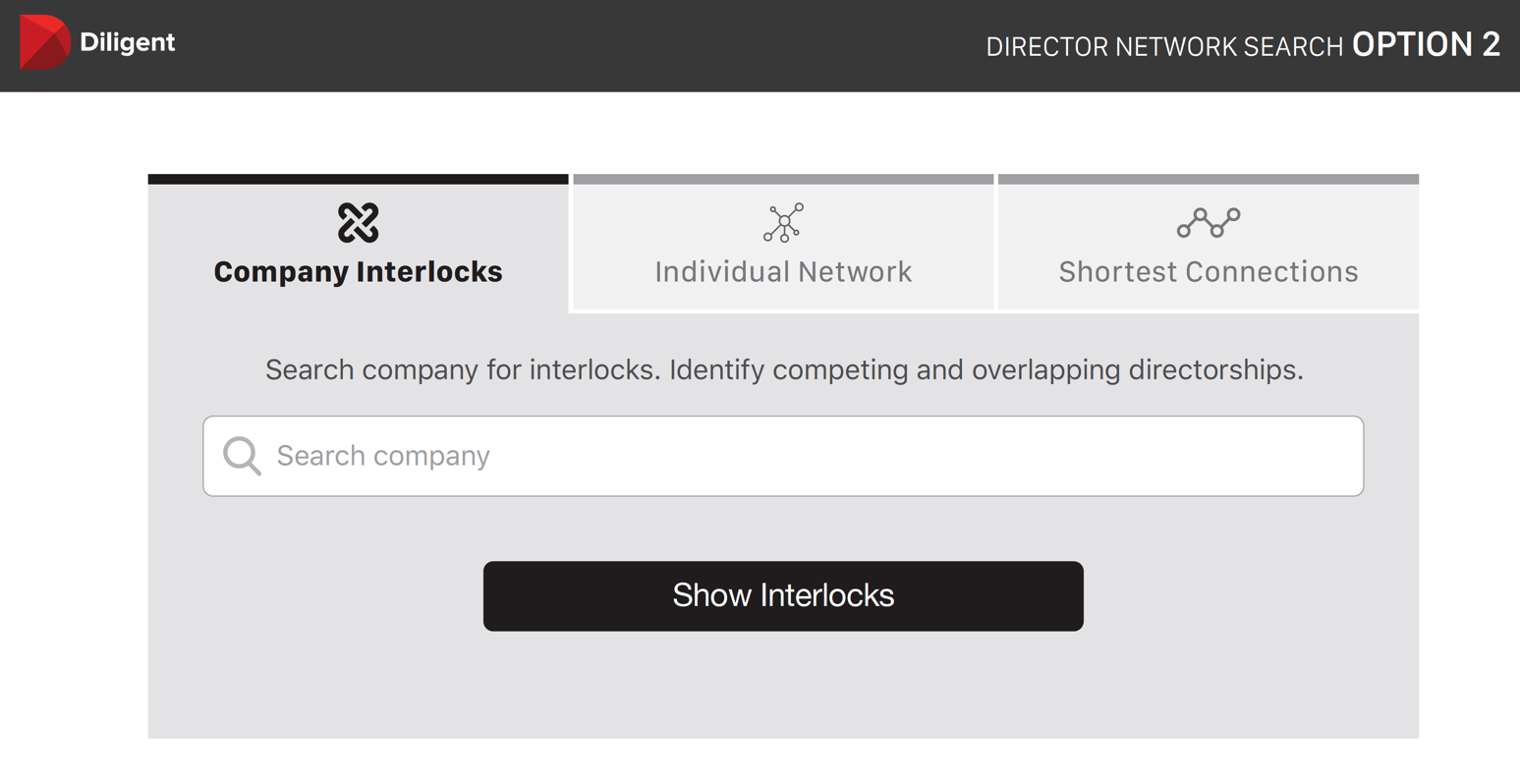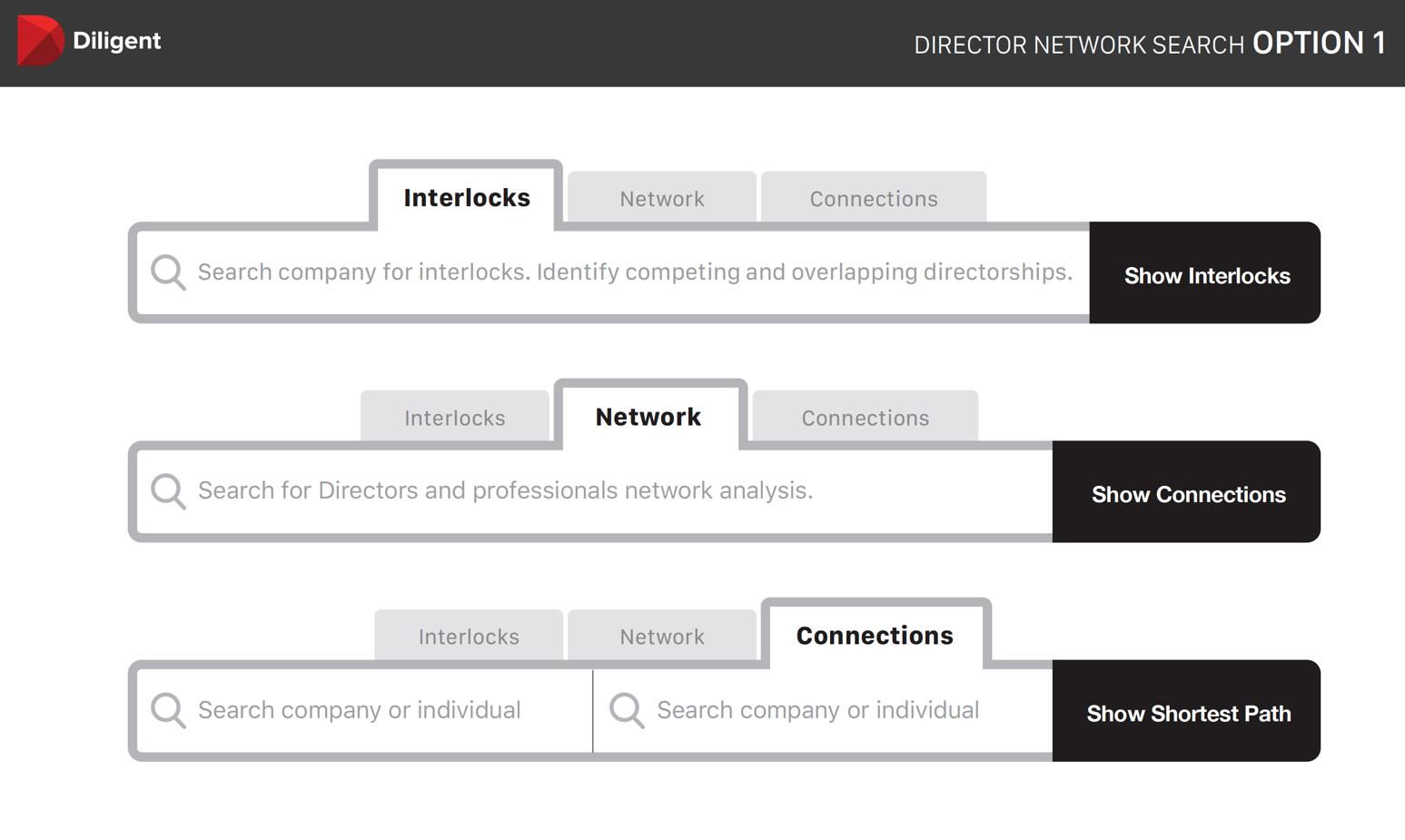 A tabbed approached created a more compact way to choose between search types.
Final Designs
The tabbed approach to the complex search, along with the explanations of benefits tested really well and provided a great starting point for introducing DirectorInsights into the Diligent Boards product suite. Additional testing and future iterations revealed that we were still placing too much emphasis on the complexities of the search and not enough emphasis on the existing secondary connections.
Conclusion
In this case, a tight deadline pushed us in a direction of iterating more on the high fidelity screens. What was later confirmed is that some of the assumptions made about being able to simply translate a few web based design patterns into an iOS application could have been discovered earlier if we had spent more time in the low fidelity, rapid idea generation part of the Ideate phase.